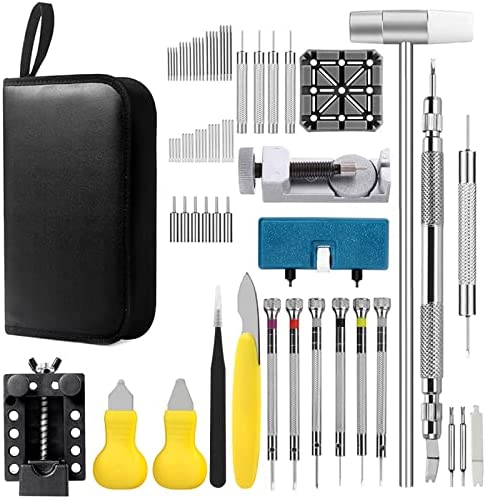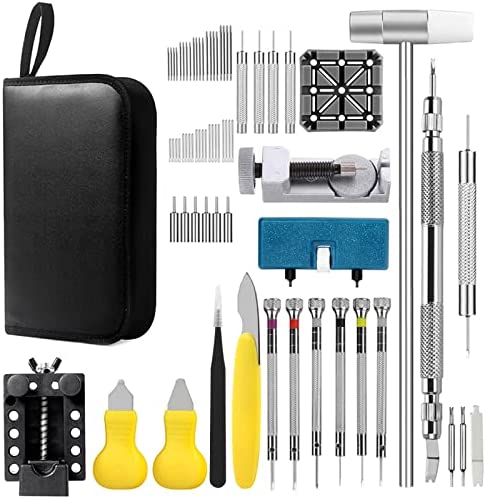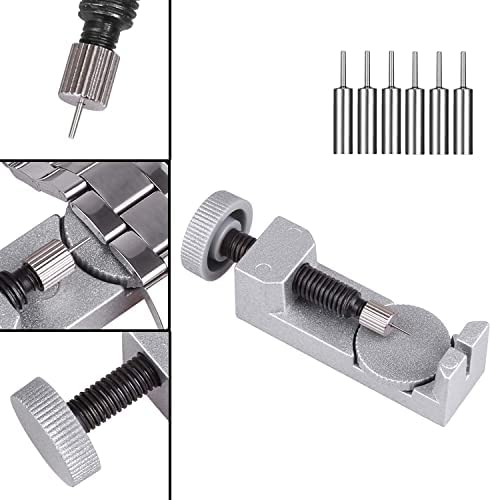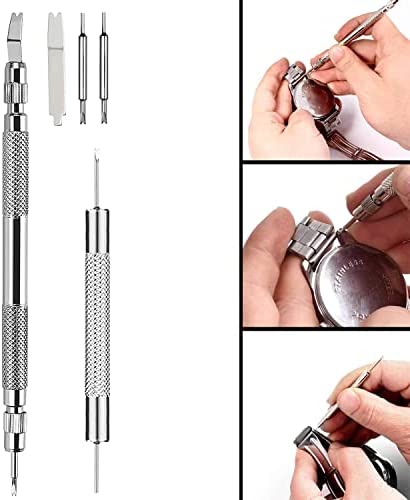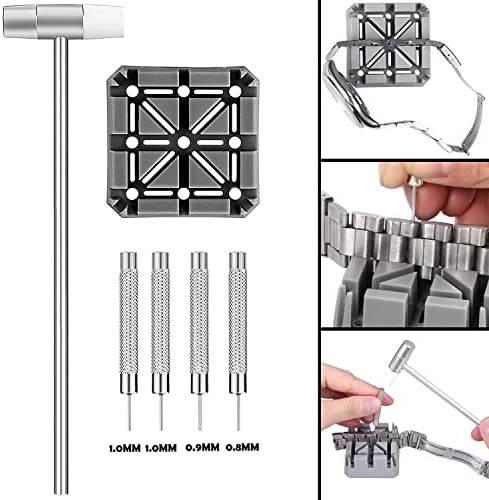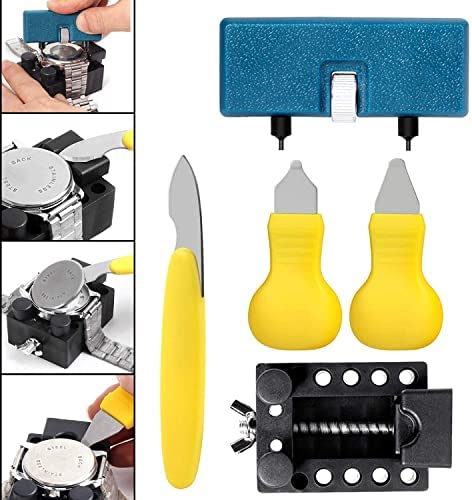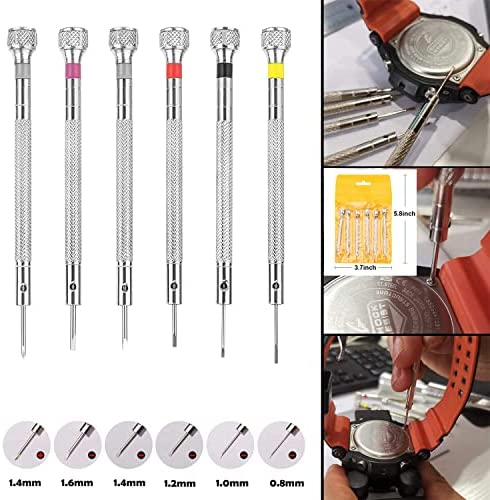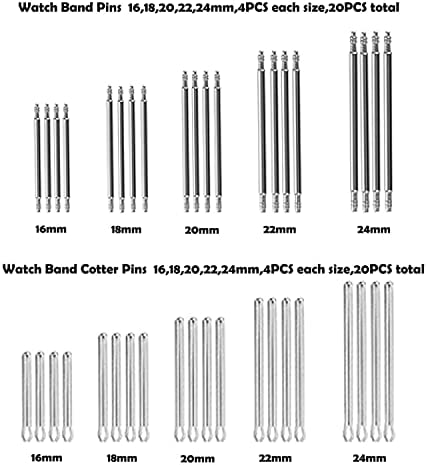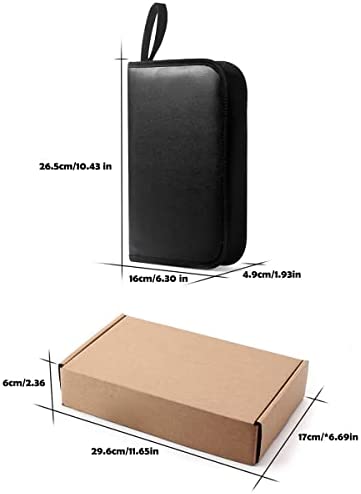 Price: $19.99 - $17.99
(as of Dec 09,2022 21:58:05 UTC – Details)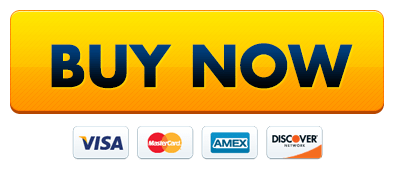 Product Description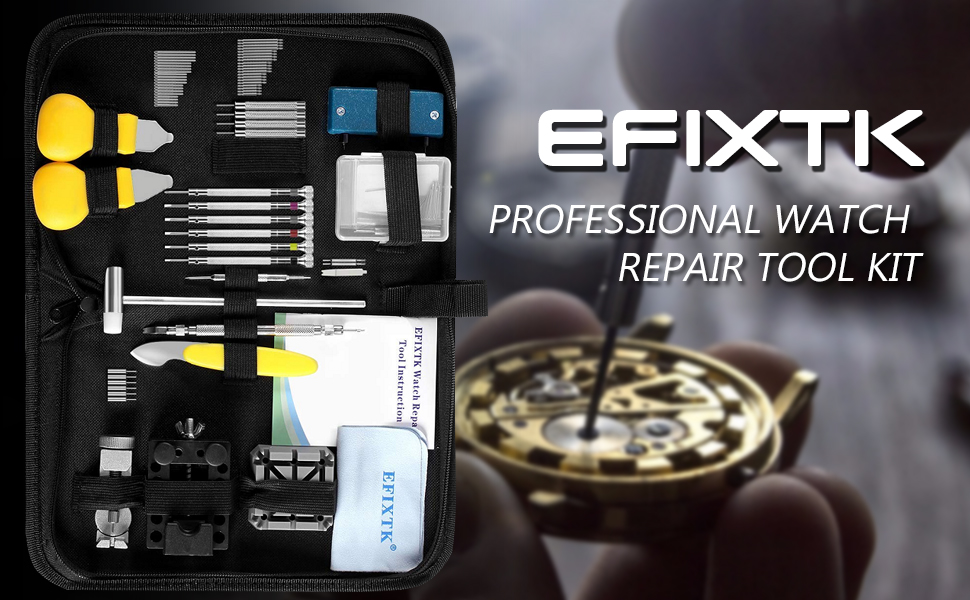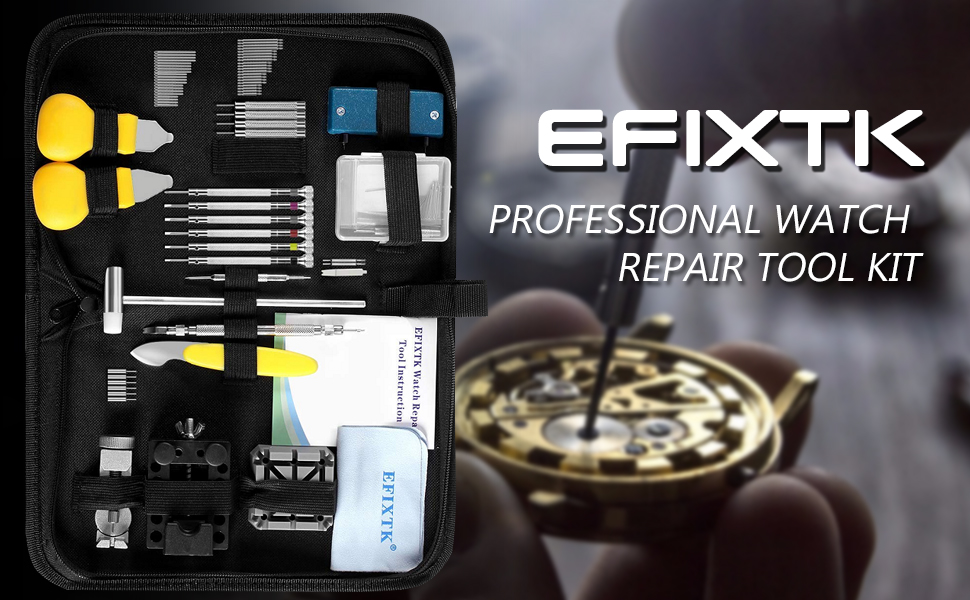 Professional Watch Repair Kit Includes:
1PCS watch band holder
1PCS dual head hammer
1PCS watch case holder tool
1PCS watch back opener
3PCS Watch Case Opener
1PCS metal watch band link removal remover tool with 6 extra replacement pins
2PCS different sizes of raw ears with 3 additional replacement pins
4PCS pin punches
6PCS high precision different sizes watch screwdriver
20PCS watch band pins
20PCS watch Band Cotter pins
1PCS user guide
1PCS glasses cloth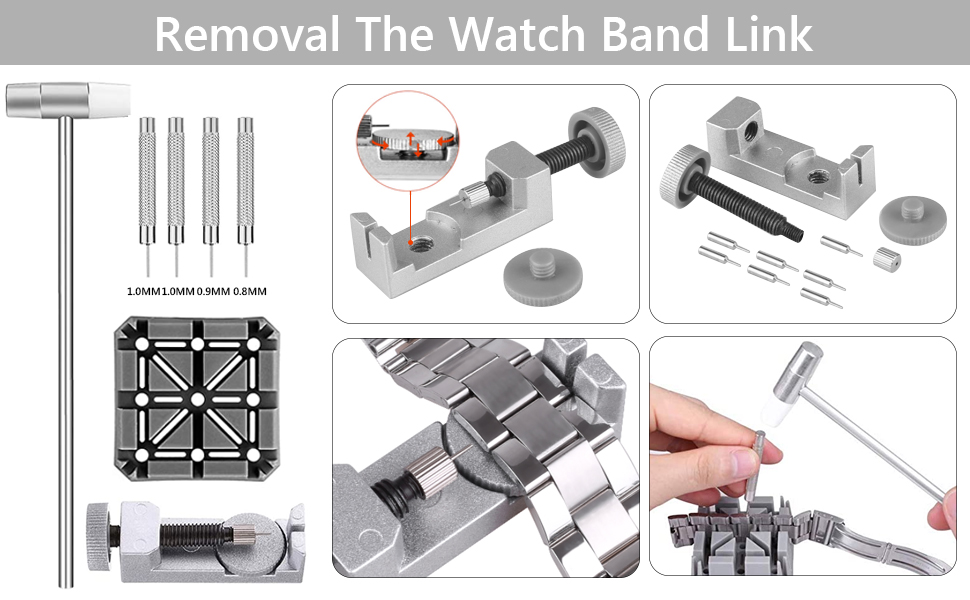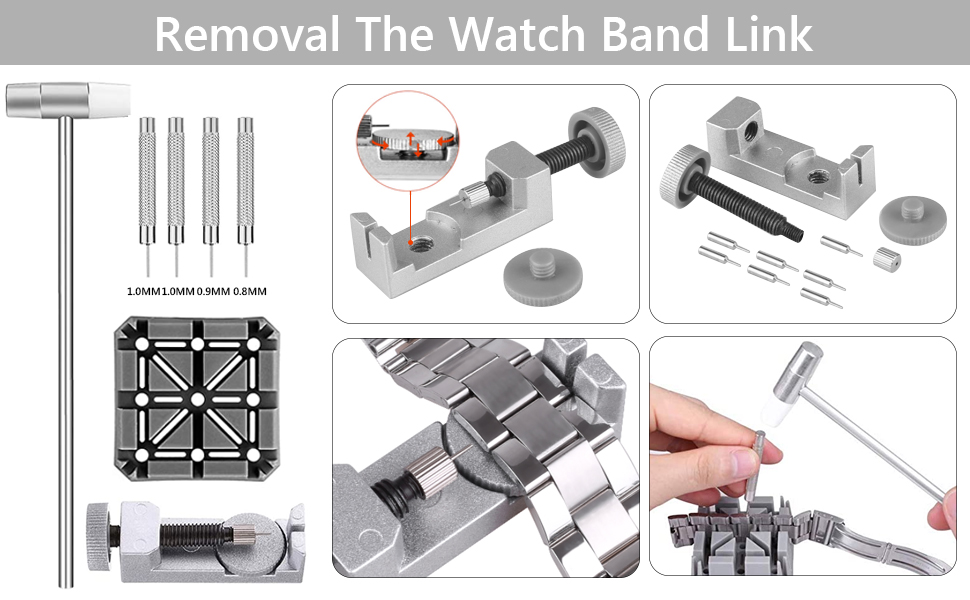 Dual Head Hammer: If you are worried that the hammer will damage the surface of small parts or finished products, you can use the soft side
Metal watch band link removal remover tool with 6 extra replacement pins: the adjustable base is suitable for different strap thickness, 6 additional replacement needles will solve your trouble of finding replacement needles. When removing the strap, align the pinhole of the watch strap
Watch Case Holder Tool:fix the watch strap
Stainless Steel Pin Punches: with 3 different sizes needles, 2X 1.0mm, 1X 0.9mm, 1X 0.8mm, and the strap can be easily replaced with a hammer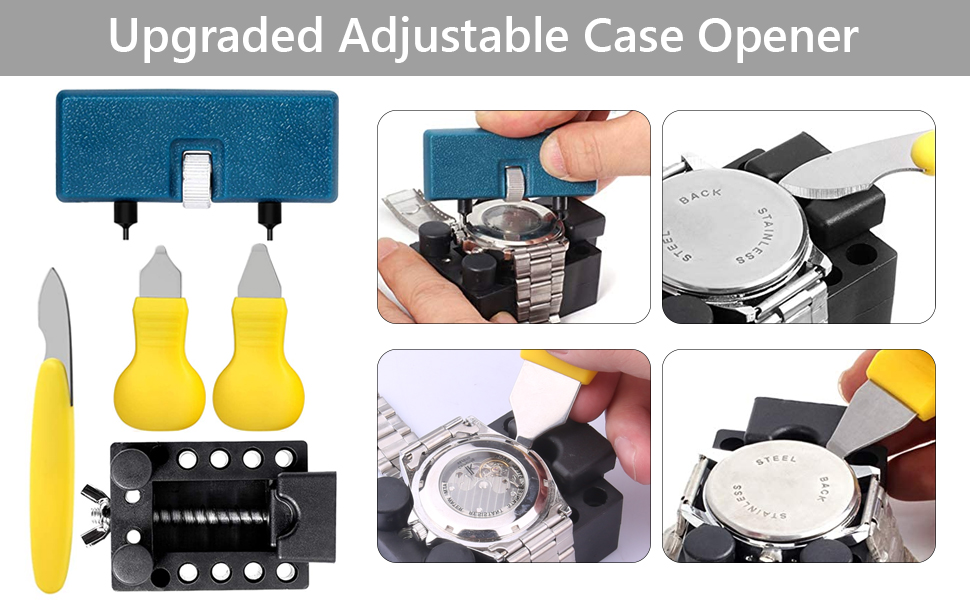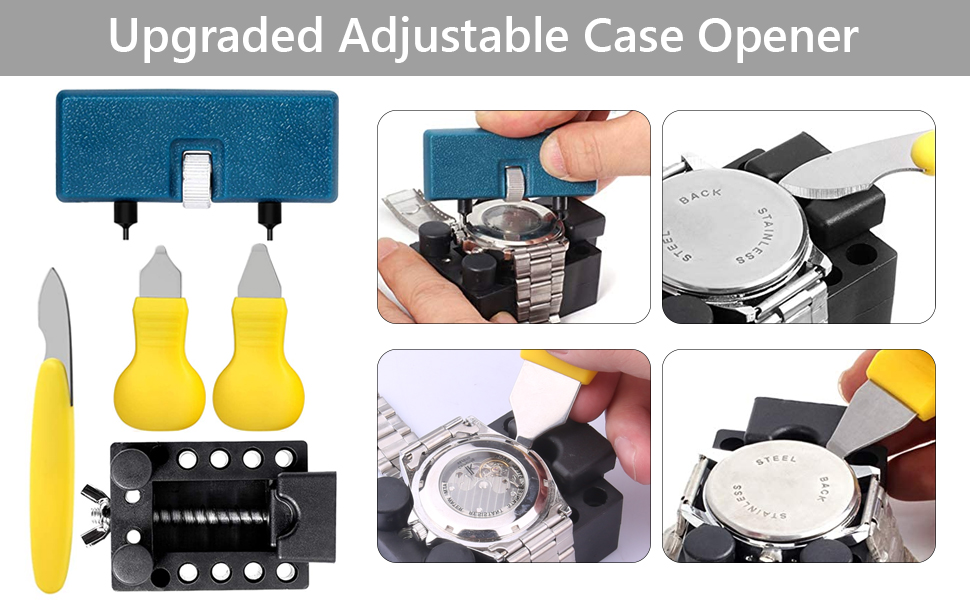 Watch Back Opener: the upgraded adjustable case opener up to 56mm, just slide the middle roller to adjust the width you need, more convenient to use
3PCS Watch Case Opener: you can use any cover opener to open the back cover to replace the watch battery according to your preference
Watch Case Holder Tool: Fixed watch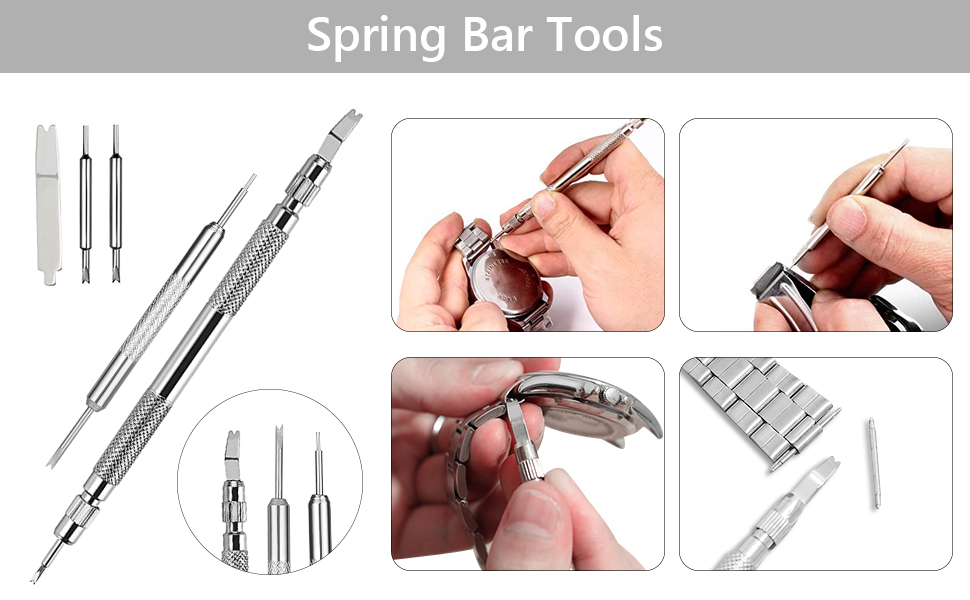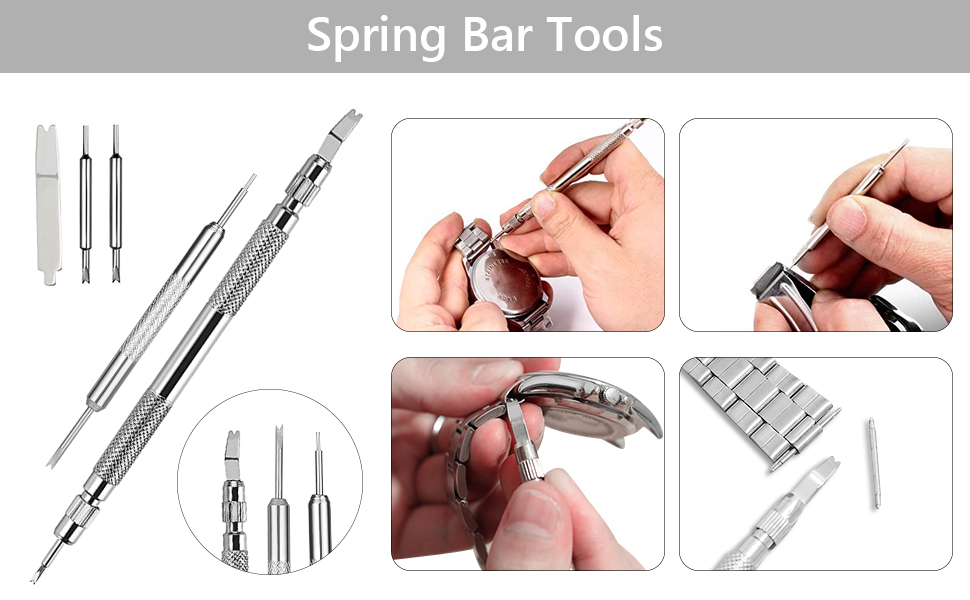 2 different sizes of stainless steel spring bar toos with 3 extra replacement pins
Size: Large 5.2 inch
Small 3 inch
It is used for belt adjustment/replacement. The big tip when removing the spring bar is used for the belt and diver's rubber band; the small prong is used to remove the lug spring bar from the back of the metal strap.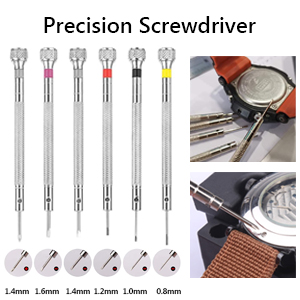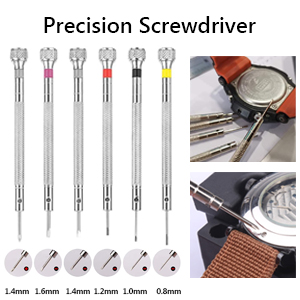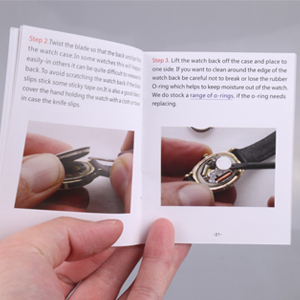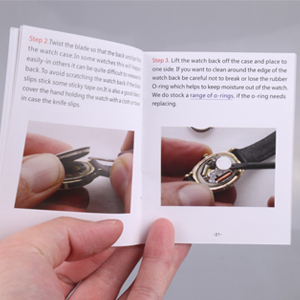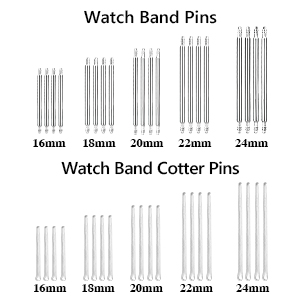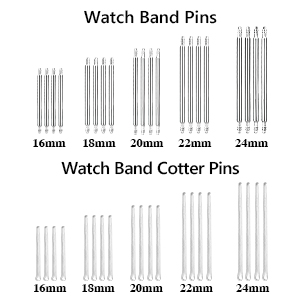 Precision Screwdrive with 6 Different Ports
Material: Stainless steel
Dimensions: 0.8mm, 1.0mm, 1.2mm, 1.4mm, 1.4mm, 1.6mm
Purpose: Very suitable for watch repair, watch battery replacement, disassembly of watch bracelet screws, glasses repair, jewelry processing and electronic product repair
Detailed Instruction Manual
Detailed instructions, even beginners don't have to worry about not using it.
Watch Band Pins and Watch Band Cotter Pins
Material: Stainless steel
20PCS different size watch band pins Dimensions: 16mm, 18mm, 20mm, 22mm, 24mm, 4 for each size
20PCS Watch Band Cotter pins Dimensions: 16mm, 18mm, 20mm, 22mm, 24mm, 4 for each size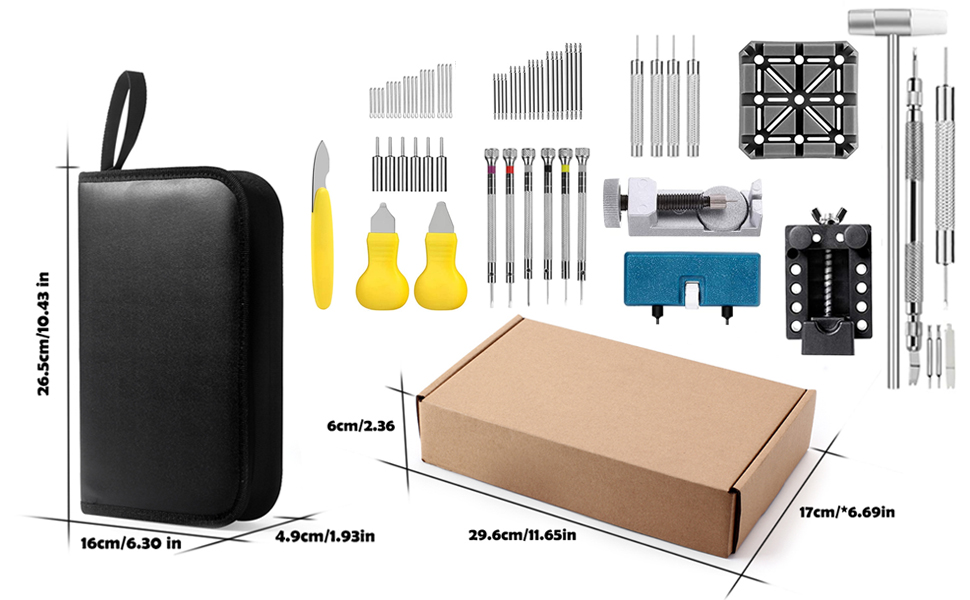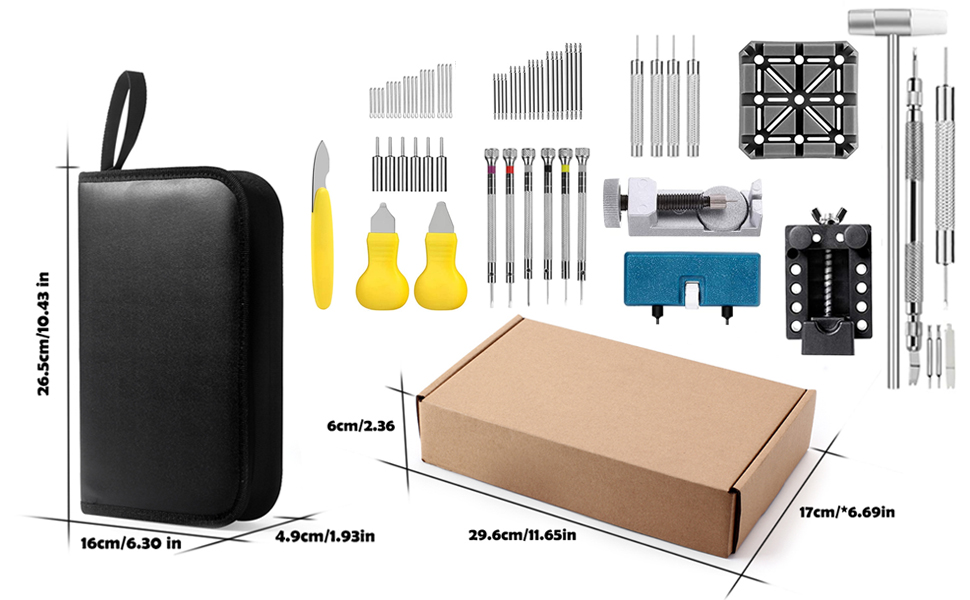 Is Discontinued By Manufacturer ‏ : ‎ No
Package Dimensions ‏ : ‎ 11.42 x 6.69 x 2.17 inches; 1.61 Pounds
Item model number ‏ : ‎ EFTK0711002
Department ‏ : ‎ unisex-adult
Batteries ‏ : ‎ 1 Lithium Metal batteries required.
Date First Available ‏ : ‎ July 10, 2018
Manufacturer ‏ : ‎ EFIXTK
ASIN ‏ : ‎ B07FF65B44
New design EFIXTK metal watch band link removal remover tool kit, fits bands adjustment up to 30mm in width, comes with 6 extra replacement pins,perfect for resizing sizing your watch band
Watch battery replacement tool kit,with 1PCS watch back opener,3PCS Watch Case Opener Knife, 6PCS high precision different sizes watch screwdriver, 20PCS different size watch band pins + 20PCS Watch Band Cotter pins includes, 1PCS watch band holder, 1PCS dual head hammer, 4PCS pin punches, watch case holder tool
Operation manual with detailed step by step photos to guide you through watch battery changes, watch band resizing, caseback opening, strap sizing, bracelet adjustments, gasket replacement and all other common watchmaking tasks
Come with a big black nylon carrying zipper case for the sake of convenient storage, in retail box